Custom Home Builders in Macon, Georgia
Build Your Custom Home in Bibb County, GA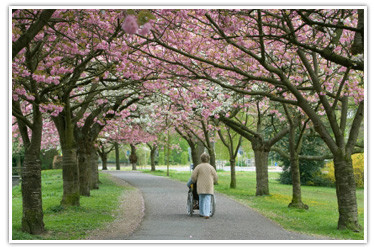 The city of Macon, known for its deep cultural heritage and history, offers a small town culture with envisions of a growing future. The city of Macon, located in Bibb County, is socially stimulating and offers great organizational, educational, and civic opportunities for visitors and residents alike.
Macon is known as the "Cherry Blossom Capital of the World" with over 275,000 Yoshino Cherry Trees throughout the city. The Cherry Blossom Festival is held every spring and offers various venues of entertainment, shopping, arts and crafts, shows and most importantly, the blooming of the trees.
The desirable climate allows families to enjoy recreational activities in the numerous parks around the area. These parks include amenities for baseball and football games, walking and nature trails, swimming, picnic areas, gymnasiums, and conference areas. The Macon area also maintains numerous private and public golf courses and tennis centers. Macon houses two professional sports teams, The Macon Knights Area Football Team and the Macon Blaze, an umbrella organization of the World Basketball Association. Both teams play from April to July and are available to the public at affordable prices.
Macon is also the home to various major state attractions such as The Georgia Music Hall of Fame, The Georgia Sports Hall of Fame, and the State Fair. Major historic landmarks are scattered throughout the city including the Hay House, the Cannonball House, and the Woodruff House, all of which date back to the mid-1800's. A variety of museums, tours and trails are also available to attract locals and tourists. Macon has several artistic organizations that sponsor various performances and events throughout the year at local venues such as The Grand Opera House, Douglass Theatre, and Theatre Macon.
Macon prides itself on the availability of fine-dining, especially in the downtown area. The variety of restaurants lets you choose from original Southern cuisine, to Italian, European, Hispanic or Chinese eateries. The downtown area also provides patrons with fine coffeehouses and small cafes.
The impeccable Macon and Bibb County School System is an excellent source for pre-kindergarten through twelve grade educations, with thirty-one elementary schools, five middle schools, and five high schools. Macon also has fifteen private academies that offer educational opportunities for elementary, primary, and secondary levels of schooling. The Macon area also offers five higher education opportunities through four credited colleges and one technical school.
Transportation around the Macon area is made easy by county busses, Greyhound Bus Lines, Middle Georgia Regional Airport, and the proximity to the city of Atlanta. Macon prides itself on public safety with four precincts within the Macon Police Department, eighteen fire houses within the Macon-Bibb Fire Department, and a various number of emergency services and crime prevention programs. The Macon area also provides the best medical services in middle Georgia with various medical center, urgent care centers, and hospitals.

Moving to Macon
For those wishing to take full advantage of all that Macon and Bibb County has to offer year round, Southland Custom Homes is a custom builder in Georgia that specializes in custom home building for the Macon area. Southland Custom Homes is an on-your-lot custom home builder, meaning that they build the home of your dreams in the location of your choice!
With over a 100 floorplan options to choose from and an array of top-of-the-line interior appointments, Southland Custom Homes is among the premier custom builders in GA. In addition to providing a huge selection of plan options, Southland Custom Homes will even work with new homebuyers to alter a specific floorplan so that it is exactly what the buyer wants. If you are looking for a custom builder in Macon, GA, Southland Custom Homes is sure to meet and exceed your expectations.
Southland Custom Homes, a custom builder in Macon, GA has model showrooms located in Macon(3956 Bloomfield Village Drive, Macon, GA 31206), Dawsonville(98 Bethel Drive., Dawsonville, GA 3053), and Marietta(265 N. Cobb PKWY, Marietta, GA 30062). Stop by or call us today at 1-866-56-BUILD* to see all that Southland has to offer!
If you are looking for a home builder in GA, Southland Custom Homes builds in the following locations:
Appling County
Atkinson County
Bacon County
Baker County
Baldwin County
Banks County
Barrow County
Bartow County
Ben Hill County
Berrien County
Bibb County
Bleckley County
Brantley County
Brooks County
Bryan County
Bulloch County
Burke County
Butts County
Calhoun County
Camden County
Candler County
Carroll County
Catoosa County
Charlton County
Chatham County
Chattahoochee County
Chattooga County
Cherokee County
Clarke County
Clay County
Clayton County
Clinch County
Cobb County
Coffee County
Colquitt County
Columbia County
Cook County
Coweta County
Crawford County
Crisp County
Dade County
Dawson County
Decatur County
DeKalb County
Dodge County
Dooly County
Dougherty County
Douglas County
Early County
Echols County
Effingham County
Elbert County
Emanuel County
Evans County
Fannin County
Fayette County
Floyd County
Forsyth County
Franklin County
Fulton County
Gilmer County
Glascock County
Glynn County
Gordon County
Grady County
Greene County
Gwinnett County
Habersham County
Hall County
Hancock County
Haralson County
Harris County
Hart County
Heard County
Henry County
Houston County
Irwin County
Jackson County
Jasper County
Jeff Davis County
Jefferson County
Jenkins County
Johnson County
Jones County
Lamar County
Lanier County
Laurens County
Lee County
Liberty County
Lincoln County
Long County
Lowndes County
Lumpkin County
Macon County
Madison County
Marion County
McDuffie County
McIntosh County
Meriwether County
Miller County
Mitchell County
Monroe County
Montgomery County
Morgan County
Murray County
Muscogee County
Newton County
Oconee County
Oglethorpe County
Paulding County
Peach County
Pickens County
Pierce County
Pike County
Polk County
Pulaski County
Putnam County
Quitman County
Rabun County
Randolph County
Richmond County
Rockdale County
Schley County
Screven County
Seminole County
Spalding County
Stephens County
Stewart County
Sumter County
Talbot County
Taliaferro County
Tattnall County
Taylor County
Telfair County
Terrell County
Thomas County
Tift County
Toombs County
Towns County
Treutlen County
Troup County
Turner County
Twiggs County
Union County
Upson County
Walker County
Walton County
Ware County
Warren County
Washington County
Wayne County
Webster County
Wheeler County
White County
Whitfield County
Wilcox County
Wilkes County
Wilkinson County
Worth County
We also build in the following cities in Georgia:
Albany
Alpharetta
Americus
Athens-Clarke
Atlanta
Augusta-Richmond
Belvedere Park
Brunswick
Candler-McAfee
Carrollton
Cartersville
College Park
Columbus
Dalton
Decatur
Douglasville
Dublin
Duluth
Dunwoody
East Point
Evans
Forest Park
Gainesville
Griffin
Hinesville
Kennesaw
LaGrange
Lawrenceville
Mableton
Macon
Marietta
Martinez
Milledgeville
Newnan
North Atlanta
North Druid Hills
Peachtree City
Redan
Rome
Roswell
Sandy Springs
Savannah
Smyrna
Snellville
Statesboro
Thomasville
Tucker
Valdosta
Warner Robins
Waycross