Custom Home Builders in Dublin, Georgia
Build Your Custom Home in Dublin-Laurens County, GA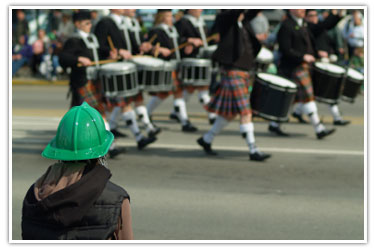 The Emerald City
Welcome to Dublin, where small town southern charm and a determination to keep Dublin-Laurens County "Green and Growing," have combined to create a community rich in character and full of life.
The City of Dublin was incorporated by the Georgia Assembly on December 9, 1812 and made the county seat. It is said that a citizen, Jonathan Sawyer, named it Dublin after the capital of his Irish homeland.
The city is situated at the junction of Interstate 16 and US Highway 441 and 319. It is about 2 hours away from the Atlanta airport and just an hour and 45minute drive from the beautiful city of Savannah. Dublin has a total area of 13.3 square miles of which, 0.1 square miles is water.
Dublin's economy was based on cotton, soybean trades and corn which developed because it is the trading center with 5 railroads running into the city. Back in 2000, the city was known as 'City Of Excellence' by Trend Magazine and tagged as 'Signature Community' by Georgia Department of Community Affairs. Exactly the same reason why Dublin's people upheave that they are the only city in Georgia that's DOUBLIN' all the time.
Something for Everyone
There's a lot of things to do and a whole lot more of experience to enjoy in Dublin. If your family is into both sports and adventure, you can go on fishing and hunting or go play tennis and golf. If you and your family are in for a little detour after the adventure, bring your kids to Dublin-Laurens County Historical Museum
For those who love shopping, the city has 400 stores; including Dublin mall and an entire retail center with shops and restaurants. Then after a tiring day from shopping, one can relax, sip wine under the astonishingly gentle climate of the city or visit the newly renovated Theatre Dublin.
In March, the entire community is a "wee bit Irish" for the Dublin-Laurens St. Patrick's Festival, which has been in existence for over 30 years! The month-long celebration offers fun for the whole family with a parade, a road race, an arts and craft fair, a leprechaun contest and much more.
Dublin is home to several scholarship pageants, which are largely popular in the Southern United States:
The Miss Saint Patrick's Scholarship pageant, sponsored by the Pilot Club, is held every year in March in conjunction with the Saint Patrick's Day celebration
Dublin and Laurens County, America's Junior Miss pageant is a scholarship competition held yearly for high school juniors. The winners of both the Dublin and Laurens County pageants advance to the state pageant.
The Miss and Teen Outstanding Irish Capital Scholarship Pageant is an official Miss America preliminary pageant and held in the fall.
The school Southwest Laurens Elementary has a Junior Miss Swle pageant each year. It is usually held in the spring.
Whatever you need and whatever you want do there is always a place for everyone, where everything has a place. Experience the simple yet marvelous Emerald city called DUBLIN.
Education
The mission of Dublin City Schools, a diverse and dynamic chartered district with a rich heritage of excellence, is to create a compassionate, respectful environment ensuring success through exceptional educational opportunities, integrating individualized instruction with leading edge technology, consistent discipline, and a world class curriculum.

Moving to Dublin, GA
For those wishing to take full advantage of all that Dublin-Laurens County has to offer year round, Southland Custom Homes specializes in Georgia new homes in the Dublin-Laurens County area. Southland Custom Homes is an on-your-lot custom home builder, meaning they build the home of your dreams in the location of your choice!
With over 100 floorplan options to choose from and an array of top-of-the-line interior appointments, Southland Custom Homes is among the premier Home Builders in GA. In addition to providing a huge selection of plan options, Southland Custom Homes will even work with new homebuyers to alter a specific floorplan so that it is exactly what the buyer wants. If you are looking for a custom builder in Dublin-Laurens County, Southland Custom Homes is sure to meet and exceed your expectations.
Southland Custom Homes, a custom home builder in Dublin, GA has model showrooms located in Macon (3956 Bloomfield Village Drive, Macon, GA 31206), Dawsonville (98 Bethel Drive, Dawsonville, GA 3053), and Marietta (265 N. Cobb PKWY, Marietta, GA 30062). Stop by or call us today at 1-866-56-BUILD* to see all that Southland has to offer!
If you are looking for a home builder in GA, Southland Custom Homes builds in the following locations:
Appling County
Atkinson County
Bacon County
Baker County
Baldwin County
Banks County
Barrow County
Bartow County
Ben Hill County
Berrien County
Bibb County
Bleckley County
Brantley County
Brooks County
Bryan County
Bulloch County
Burke County
Butts County
Calhoun County
Camden County
Candler County
Carroll County
Catoosa County
Charlton County
Chatham County
Chattahoochee County
Chattooga County
Cherokee County
Clarke County
Clay County
Clayton County
Clinch County
Cobb County
Coffee County
Colquitt County
Columbia County
Cook County
Coweta County
Crawford County
Crisp County
Dade County
Dawson County
Decatur County
DeKalb County
Dodge County
Dooly County
Dougherty County
Douglas County
Early County
Echols County
Effingham County
Elbert County
Emanuel County
Evans County
Fannin County
Fayette County
Floyd County
Forsyth County
Franklin County
Fulton County
Gilmer County
Glascock County
Glynn County
Gordon County
Grady County
Greene County
Gwinnett County
Habersham County
Hall County
Hancock County
Haralson County
Harris County
Hart County
Heard County
Henry County
Houston County
Irwin County
Jackson County
Jasper County
Jeff Davis County
Jefferson County
Jenkins County
Johnson County
Jones County
Lamar County
Lanier County
Laurens County
Lee County
Liberty County
Lincoln County
Long County
Lowndes County
Lumpkin County
Macon County
Madison County
Marion County
McDuffie County
McIntosh County
Meriwether County
Miller County
Mitchell County
Monroe County
Montgomery County
Morgan County
Murray County
Muscogee County
Newton County
Oconee County
Oglethorpe County
Paulding County
Peach County
Pickens County
Pierce County
Pike County
Polk County
Pulaski County
Putnam County
Quitman County
Rabun County
Randolph County
Richmond County
Rockdale County
Schley County
Screven County
Seminole County
Spalding County
Stephens County
Stewart County
Sumter County
Talbot County
Taliaferro County
Tattnall County
Taylor County
Telfair County
Terrell County
Thomas County
Tift County
Toombs County
Towns County
Treutlen County
Troup County
Turner County
Twiggs County
Union County
Upson County
Walker County
Walton County
Ware County
Warren County
Washington County
Wayne County
Webster County
Wheeler County
White County
Whitfield County
Wilcox County
Wilkes County
Wilkinson County
Worth County
We also build in the following cities in Georgia:
Albany
Alpharetta
Americus
Athens-Clarke
Atlanta
Augusta-Richmond
Belvedere Park
Brunswick
Candler-McAfee
Carrollton
Cartersville
College Park
Columbus
Dalton
Decatur
Douglasville
Dublin
Duluth
Dunwoody
East Point
Evans
Forest Park
Gainesville
Griffin
Hinesville
Kennesaw
LaGrange
Lawrenceville
Mableton
Macon
Marietta
Martinez
Milledgeville
Newnan
North Atlanta
North Druid Hills
Peachtree City
Redan
Rome
Roswell
Sandy Springs
Savannah
Smyrna
Snellville
Statesboro
Thomasville
Tucker
Valdosta
Warner Robins
Waycross